By The Brothers Grimm
Adapted by Sea Legs Puppet Theatre
What happens to old toys when nobody loves them any more? There is a place where they are sorted into those who will find new homes, and those who will never be loved or played with again.
A worn out toy donkey, a pull along dog, a one eyed cat and a mechanical cockerel find themselves in just such a place. Rather than waiting to find out their fate, they escape and run away to Bremen Town to try their luck as musicians. So begins the greatest adventure of their lives in this classic fairytale of friendship and courage.
Toy Story meet the Brothers Grimm in this enchanting new production for children and their adults. Told with fabulous puppets, an innovative stage set and a brilliant musical soundtrack!
Recommended ages – families / children age 3+
Running time – 45 minutes + 15 minutes "Meet the Puppets"
The Musicians of Bremen Crew
Artistic Director – Rob Ashman
Drama Director – Johnny Cartwright
Puppetry & Performance – Rob Ashman
Puppet/Set Design – Matt Hart, Rob Ashman
Puppet/Set Making – Matt Hart, Rob Ashman, Paul Batten, Espen Quinto-Ashman, Simon Oxford, Matthew Farmer
Technical Advisor – Paul Batten
Original Songs and Script – Rob Ashman
Shadow Puppets – Marie-Therese King, Rob Ashman, Paul Batten, Espen Quinto-Ashman
Seamstresses – Carole-Anna Quinto, Wendy Jackson, Karen Meiklejohn, Tina Walton
Costumes – Christine Quinto
Introduction – Freya Stevens-Ashman, Lukas Blaxall
Photography – Adam Cove
Musicians
Acoustic Guitar, Ukulele, Vocals – Rob Ashman
Electric Guitar – Craig Powell
Harmonica, Accordian, Whistle, Bass – Aidan Sheehan
Percussion – Pedro Brown
Violin, Bass, Keyboard – Dave Wood
Backing Vocals – Annie Wood
Recorded at Broadoak Studios, Herefordshire by Dave Wood
Review of The Musicians of Bremen at The Courtyard, Hereford By Andrew Doyle, The Hereford Times.
WHEN it comes to clearing the house of those battered old toys we usually find we're overcome with emotion and end up giving them a new home in the loft. But what happens to the ones that are cast out on to the scrap heap?
The latest production by Sea Legs Puppet Theatre, The Musicians of Bremen, is a beautifully conceived tale about four such toys who aren't going to take it lying down. Rather than be recycled, a dog on wheels, a little donkey, a clockwork rooster who's lost his doodle-do and an old cloth cat join forces and head off on an adventure in a bid to find home and happiness.
A clever re-working of the children's story of the same name, this wonderfully inventive show captivated the young audience, employing a mixture of hand-held puppets, props and ingenious scenery, along with some beautiful shadow puppetry.
It's truly heartening to see an auditorium full of children lapping up an art form as old as the hills, albeit with a nod and a wink to modern sensibilities.
There are echoes of Toy Story 3 in the narrative, and this touches all the same sentimental soft spots, but offers something that a movie can't – audience participation.
Add to that live music and the chance to meet the cast at the end, and you have a truly magical 45 minutes of entertainment that lives long in the memory.
Puppeteer, musician and showman Rob Ashman delivers a skilful and beautifully crafted show – as those familiar with Sea Legs will know. He and behind-the-scenes colleague Matt Hart build the scenery and puppets for each show, adding a wholly unique flavour to the production.
A brief time in the company of Sea Legs is one of those experiences you'll cherish as a family.
Background to the Production
Shortly after Little Bo Peep premiered in 2011 I decided on the title of the next production: The Musicians of Bremen. We actually produced a version of the Brothers Grimm tale in 2002 as a two hander which toured for about a year. Since that time I have always wanted to produce a one man version of the story. Rather than use the puppets and set from the previous production, I decided to start afresh. Performance and theatre production is a living, breathing process – always developing.
So it was that shortly after the summer 2012 I began discussing ideas with Mat Hart. I've known Mat for many, many years and have worked on numerous projects with him over that time including playing in a band together, writing and acting in community arts productions and over the last 16 years producing puppet theatre. We have developed together – me primarily as a performer, he as a maker.
Research and Development
As Mat now lives in Bristol we had our initial meetings on skype. This worked well when we were batting ideas back and forth, but as our ideas progressed we spent some days together devising, using stand in puppets and bits of set where necessary. I was clear from the off that I wanted to use shadow puppets as well as hand puppets. I also wanted the materials that we use to have a rustic, timeless quality to them. As often happens we spent some days chasing lost causes – that's the process! We explored the idea of the set being made almost entirely out of bits of found farm/rural implements. I went out to a friends farm and he loaned me a collection of wonderful old tools etc, including a magnificent old scythe. That's how it was left for a couple of weeks while I was out touring.
Characters as Toys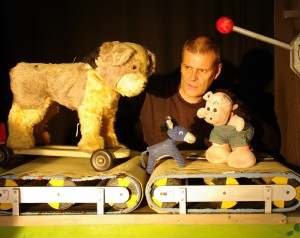 When we met again we came up with the idea that the main characters in the story: The Donkey, The Dog, The Cat and The Rooster could actually be old toys in a recycling centre. I immediately loved this idea for several reasons: for one I think Sea Leg's audiences will be able to relate to the idea of old toys coming to life. I love watching my 6 year old daughter play with her toys. From the voices she makes for her characters to the scenarios she puts them in she is essentially a puppeteer, like all children. Making the characters into toys is also reminiscent of another story I seriously considered producing but eventually decided against it – The Velveteen Rabbit by Margery Williams. Of course it also has a sense of Toy Story about it which can only be good for selling the show.
So, for all of these reasons and just that it "feels right" we decided to run with this idea. Eventually we reached the point where we had sketched out a shape for the show including the set design, style of the set / puppets etc. We have designed a set with movable parts that can be changed to represent the 4 different locations in the play. These are: The Factory (The place where toys are sorted), The Road, The Woods, The House.
The Set – Scale Model
In order to best test and develop our ideas we decided to make a 1 in 4 scale model of the set out of MDF. This took about a day to make. I then brought in a technician to explore and further develop our ideas.
So bringing this blog up to date – yesterday  – Wednesday November 15th I met up with Mat and technical adviser Paul Batten. I have known Paul for about 20 years – We also played in a band together once and have worked together previously on various projects including large scale puppets and pyrotechnic events. I should just say here that not everyone who works for Sea Legs has played in a band with me:) Anyway apart from the great banter, Paul is extremely creative and conscientious. He more than earned his fee yesterday (although he's not getting a bonus) by coming up with some great ideas that we will be implementing over the coming months. The most important ideas that came out of yesterdays session were; 1) To make the lighting integral to the set design, 2) To use a carousel slide projector to tell some parts of the story and 3) Ideas on set construction.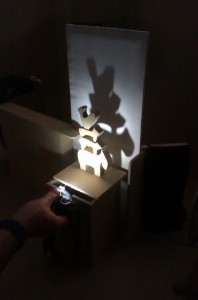 Of course the iconic image from The Musicians of Bremen is the animals standing on top of each others backs – we intend to create this image both 3 – dimensionally and in shadow. Please see the image on the right as we test this idea using our MDF models.
Another idea we explored was to light one of the scenes using a head torch. Please see image below.
Set Building
So the next step is to start building the set.
As Christmas looms and I get more and more busy touring, Mat will be constructing the set. Although mostly straightforward, there is one aspect that will take a bit of research and working out. In the first scene : The Factory, the toys are sorted on a working conveyor belt – to be precise it is 3 square shaped conveyor belts placed next to each other. These belts will stand upright for the next 3 scenes and become a moving backdrop, that will help create the journey the toy animals embark upon.  So next up, apart from some Skype / telephone meetings with Mat, Paul and Johnny Cartwright (who will eventually be directing the show), will be a progress meeting In January 2013.