By Oscar Wilde
Adapted by Sea Legs Puppet Theatre
Since building a wall to keep the children out of his garden, the only visitors the Selfish Giant gets are Lady Snow and her friends. One morning he hears the most beautiful music coming from his bedroom window and is delighted with the sight that greets him.
Set in a magnificent steel sculpted garden, the story is told using beautifully crafted puppets, a brilliant musical soundtrack and superb storytelling.
For children age 4+
"It was a marvelous performance. I really enjoyed the music and the puppets are amazing masterpieces – Outstanding!" – Nina Los Peires, Parent, London.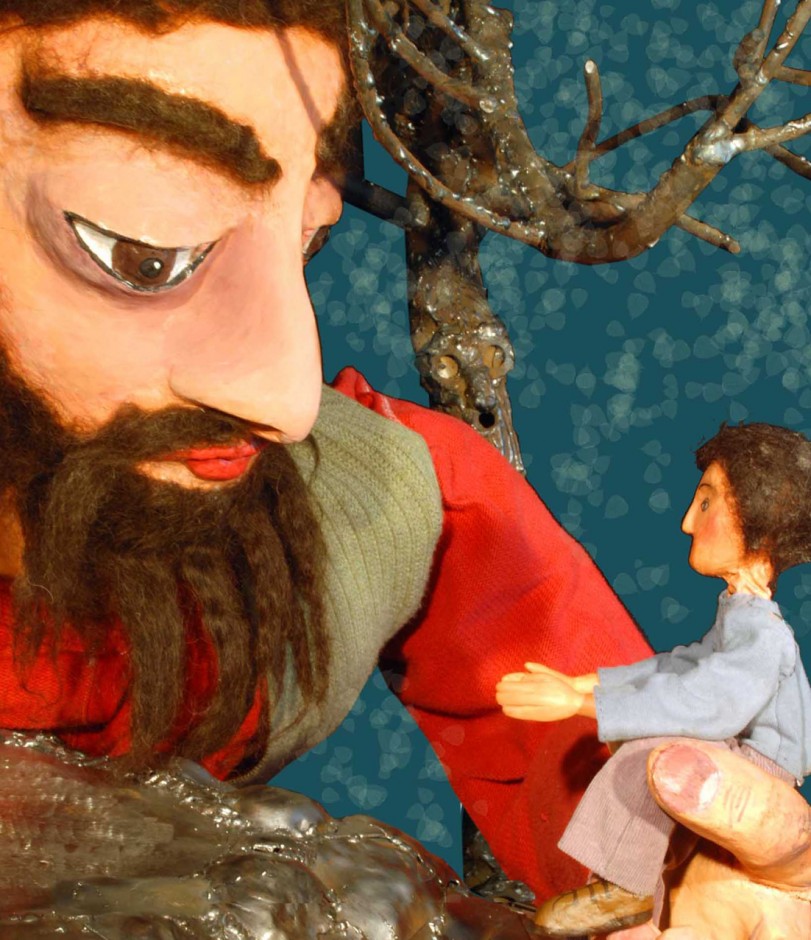 Selfish Giant Crew
Artistic Director – Rob Ashman
Drama Director – Johnny Cartwright
Puppetry & Performance – Rob Ashman
Puppet Makers – Rob Ashman & Matt Hart
Musical Director – Jack Bishop
Piano, Bass, Lead Guitar, Saxophone – Jack Bishop
Ukulele – Rob Ashman
Mandolin – Ian Smith
Acoustic Guitar – Craig Powell
Lady Snow Vocal – Lulu D'Amico
Percussion – Nick Quinto
Set – Jaz Asbury
Additional Set – Matthew Farmer
Set Painting  – Tobias Armitage, Dominic Harbour, Pete Boydell
Seamstress – Karen Hughes
Costumes – Rhona Muckart
Photography – Michelle Gerrard, Dominic Harbour, Espen Quinto-Ashman
Artwork – Carole-Anna Quinto
Video Trailer – Matt Hart
Review of The Selfish Giant at Hay Festival 2012
By Jennifer O'Mahoney – The Telegraph
Sea Legs Puppet Theatre performed an eerie retelling of Oscar Wilde's morality tale The Selfish Giant, delighting the over 5's with a simple stage setup and beautiful musical accompaniment.
The story of the giant who casts the children out of his garden and builds a wall around it, only to be cursed with an endless winter, provided a gentle lesson in sharing that was clearly absorbed by performer Rob Ashman's many young fans.
The confirmation of this came with a youthful shout from behind me of 'That's nice, isn't it?' when the giant finally learned to help others and placed a crying young puppet on top of his apple tree, and when a girl shyly told Mr Ashman at the end of his performance "You are my favourite actor ever."
The beautiful costumes of the puppets, especially the spooky figures of Hail, The North Wind, Lady Snow, and Mr Frost, who haunt the giant's garden during the long winter of his tyranny, added to the ghostly atmosphere, and when the giant dies and joins the boy from the apple tree in heaven, the blossom drifting onto his enormous fallen head neither patronised nor scared the young audience. A perfectly balanced performance!
Background to the making of
The Selfish Giant
In January 2007 I began producing The Selfish Giant. It took a while to settle on a script that I was happy with and went through a lot of drafts and collaboration with several people.
The set for The Selfish Giant is possibly the most exciting I have ever worked on. The main challenge we had in the devising of the show was how to transform spring to winter and winter to spring in an instant. The solution we came up with is a giant rotating 'egg' with a handle on one side. One half of the 'egg' is spring. The other is a steel sculpted winter garden. I literally 'turn' spring into winter before the audiences eyes.
At first I had carpenter, Tom Straker marked out as the set builder but after consultation with him about the set design he suggested it would be a lot more practical to make it out of steel. So I approached Jaz Asbury who very thankfully agreed to take on the project. From the first meeting I knew that the set was in safe hands. Jaz is incredibly imaginitive and has excellent problem solving skills – a vital quality for such a project. He went away and after a couple more preparatory/design meetings, made the set in a few days in early September 2007. When I first saw it in his workshop I was amazed, if not a little daunted. I always get a strange feeling when I see a production coming together. To have something that until then one has had to visualise , suddenly appear physically before ones eyes brings to the surface mixed emotions of excitement, awe and even a little fear.
From September 2007 I seemed to be writing endless daily lists of things to do. I would write a new production plan every few days or so and this went up to writing a new one, sometimes several times a day towards the final two weeks. The project simply grew.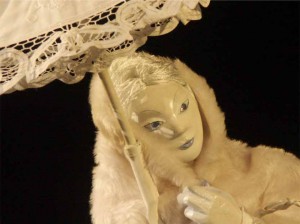 Towards the end of August 2007, it became obvious that if I were to hit the October 10th deadline I would have to commision another puppet maker (apart from myself) to make the winter puppets. I immediately thought of my old friend and colleague Matthew Hart. Matt got me into all this puppet lark in the first place when in 1996 we co-founded Sky in the Pie Puppet Theatre. I'm so glad I brought Matt in. He has performed wonders and the Winter Puppets are a hit.
Another important feature of this production is the music. From the first draft it was clear there was going to be a lot of music and songs. I already had it in mind that I wanted Jack Bishop involved. I originally worked with Jack on Peter & the Wolf in 2006 and so knew how talented he was. In the event he played and recorded most of the music for this production and there is an almost continual musical soundtrack incorporating genres from Jazz (Lord Hail) and baroque (Mr Frost) to rock and pop (The North Wind/Children's song) and various others inbetween.
As the production neared its deadline I brought in more and more people to carry out the many making tasks involved. Rhona Muckart who has worked on previous productions made the children's costumes. Several set painters were brought in and Karen Hughes did her usual fantastic job on the set dressing – lots of sewing involved!
Finally Johnny Cartwright came in to direct, bringing his usual imaginative and creative solutions and acting as the all important outside eye to this beautiful Oscar Wilde story.