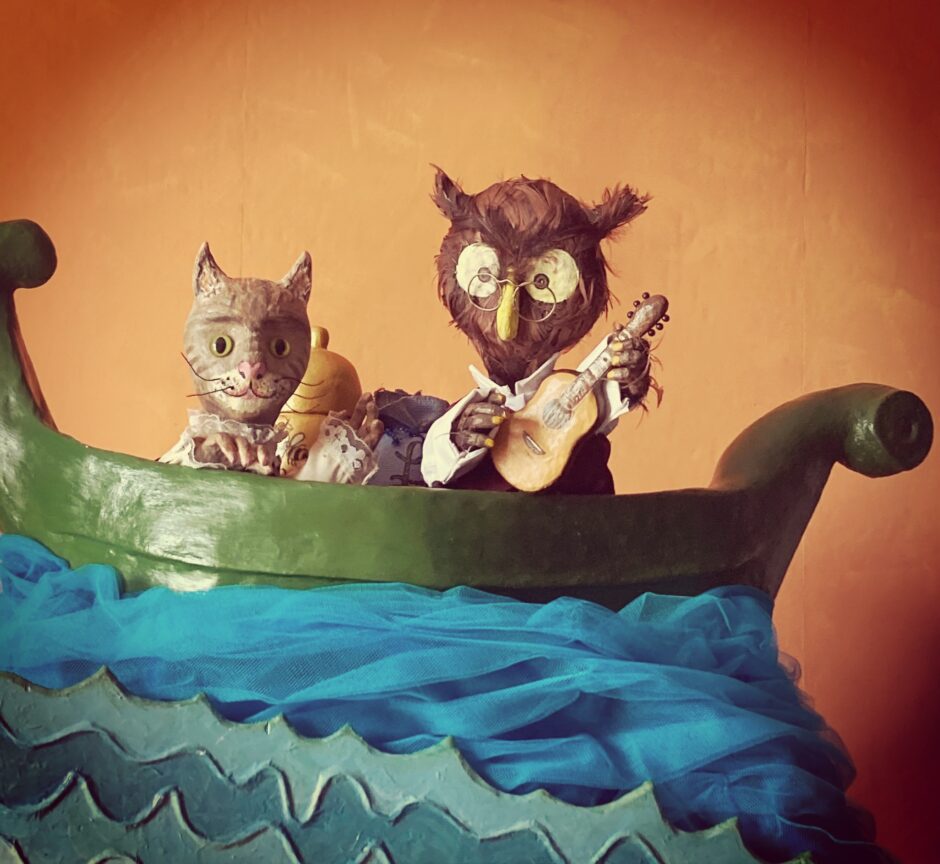 COMING SOON: – Our forthcoming show Edward Lear's Dream is in production now and it will be out touring from July 2022.
In Sea Legs Puppet Theatre's 21st year anniversary production Edward Lear falls asleep at his desk whilst writing his Book of Nonsense. As he dreams, he journeys through magical lands meeting a host of fantastical creatures along the way…
Meet celebrated Lear characters; the Quangle Wangle, the Jumblies and possibly his most famous; the legendary Owl and the Pussycat in the greatest literary love story since the Dish ran away with the Spoon.
Told with a cast of fabulous puppets, an innovative stage set and a brilliant new musical soundtrack featuring six new songs to Lear's famous poems and limericks.
Edward Lear's Dream Crew
Artistic Director – Rob Ashman
Drama Director – Johnny Cartwright
Script by Rob Ashman and Johnny Cartwright
Puppet / Set Making – Rob Ashman
Additional set making / painting – Espen Quinto-Ashman / Fred Stevens-Ashman
Carpenters – Nic Quinto / Matthew Farmer
Photography – Carole-Anna Quinto
Voice Artist – Ria Parfitt
Sound Engineer – Paul Read
Guitar / Ukulele – Rob Ashman
Piano / Bass – Jack Bishop
Violin – Ann Rowan
Electric Guitar – Craig Powell
Vocals – Rob Ashman, Ria Parfitt
Additional vocals – Craig Powell, Ann Rowan, Theo Quinto-Harbour, Becki, Chloe and Maisy
Puppets below in various stages of progress – February 2022…
Edward Lear and his Cat, Foss – A bit more work to do on these two before they are ready for painting and costuming.
The Owl and the Pussycat scene is progressing nicely.