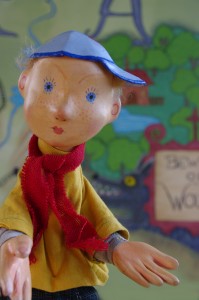 Welcome to Russia! Travel with Rob and his suitcase full of surprises into deepest darkest Russia, to old man Prokofiev's house in the woods, where lives the big, hungry Wolf.
Meet Sergei Prokofiev's world famous characters: young Peter and his Grandfather, the supercilious Cat, the silly Duck, quick-witted Redbird, Ivan and Boris the blundering hunters and of course…. the big hungry Wolf.
An energetic and fun adaptation told with the use of Sea Legs' wonderfully creative puppets, Rob's superb storytelling and a brilliant musical score, the audience is hooked from the start as they are led into an enchanting storybook world.
Recommended ages – families/ children age 3+
Running time –  45 minutes + 15 minutes "Meet the Puppets."
"Absolutely fantastic, I loved it as much as my children." – Fay Compton, Primary School Teacher and Mum of 3 + 4 year olds, Audience member, Arts Depot, London.
Peter & the Wolf Crew
Artistic Director – Rob Ashman
Drama Director – Johnny Cartwright
Musical Director – Jack Bishop
Puppetry & Performance – Rob Ashman
Puppets & Props – Rob Ashman, Matt Hart, Dominic Harbour, Craig Powell
Set – Matthew Farmer, Matt Hart, Rob Ashman, Jaz Asbury
Costumes – Rhona Muckart, Christine Quinto, Sophia Hutchins, Jayne Lennard
Seamstress – Karen Hughes
Photography and Design – Adam Cove, Carole- Anna Quinto
Many thanks to Craig Powell at Trading Post, Wembley for the very hard to find suitcase.
Musicians
Vocals – Rob Ashman, Lulu D'Amico, Martin Blake
Piano, Bass and Saxophone – Jack Bishop
Guitar – Martin Blake
Clarinet – Mick Freeman
Flute – Ritchie Cotterell
Violins – Liam Dunachie, Rob Strawson,  Dave Wood
Oboe – Lydia Griffiths
Mandolin – Ian Smith
Tuba – Simon Ellam
Trumpet & Flugal Horn – John Prestage, Michael Prestage
Mixing & Mastering – Paul Cobbold
Review of Peter and the Wolf, South Street, Reading
By A.F Harrold
This production by Sea Legs Puppet Theatre is engaging from the off. Storyteller and puppeteer Rob Ashman quiets the room and focuses the attention with an introductory song based on Prokofiev's main theme, before setting the guitar and kazoo aside and setting out on his journey into the story.
He receives a letter and a map from Old Man Prokofiev himself, deep in the wilds of the Russian forest, inviting him to come and hear the story. And so he sets out by aeroplane, by taxi, train and on foot across the world to the old man's cottage. In a movie this would be represented by a moving line on a map and by establishing shots of iconic landmarks along the way, and Sea Legs do the same thing, with a smashing travel montage to some raucous scene setting Cyrillic music.
At the cottage in the deep wilds Rob is told the story of Peter and the Wolf, which he tells to us. As he does so his suitcase becomes a forest and a lake, inhabited by the characters of the tale, the little Red Bird, an argumentative and easily startled duck, a sneaky and supercilious cat and, of course, Peter, his grandfather and later on the Wolf itself.
The story is funny and, although there are some necessary pantomime moments, is never overly hammed up or watered down. The moment the duck gets eaten by the wolf (caught up in his clacking crocodile-like jaws) is quite a brilliant shock, and to balance moments like this against the cat's very enjoyable double-takes when first introduced to the calm and serene (though still hungry) wolf is both skilful and satisfying.
The ending – which avoids bloodshed by sending the wolf to the zoo and sees all the puppets displayed on procession – ties the loose threads up and puts a lid on the story in a way that won't leave any nightmares hanging around in children's brains, but which send them off home with big smiles on their faces and a story to tell whichever adult it was who didn't get to take them to the theatre.